Can VR Promote Awareness of Unconscious Bias? Workshop project on the work environment surrounding child-rearing
Date:

2022.03.03(Thu.)

Time:

13:00-15:00

Venue:

Online


Host:

Institute for Future Initiatives, UTokyo
Overview
We all have unconscious bias. In particular, gender-related unconscious bias often hinders the child-rearing generation's success in the workplace, both in society and in companies. Today, the child-rearing scenario has changed dramatically with the increase in dual-earner households, the encouragement provided to men regarding participation in child-rearing, and the increase in telework. Nevertheless, recognizing bias arising from one's child-rearing experience and the generation gap is not easy.
To this end, promoting empathy by using virtual reality (VR) to relive the experiences of others is known to create awareness of unconscious bias and promote appropriate workplace communication. Therefore, in this project, we develop VR content that can be used in diversity training programs. We aim to build a workshop program that will lead to dialogue. In the program, we will introduce actual VR contents and findings obtained and discuss future issues with participants.
Event report
On March 3, 2022, an online event titled "Can VR Promote Awareness of Unconscious Bias? Workshop Project on Work Environment Surrounding Child Care" was held. Below is a summary of the day's events.
First, Prof. Hideaki Shiroyama, Director of the Institute for Future Initiatives at the University of Tokyo, gave the opening remarks. He noted that diversity and Inclusion (D&I) has been considered an important issue at the University of Tokyo under the current President, and within the university, discussions have been held on comfortable workplaces and research environments. He further indicated the importance of promoting research and activities on D&I in cooperation with the Office for Gender Equality within the university.
Prof. Shiroyama noted that while group discussions are used as a consensus-building method, through this event, he would also like to consider the possibilities and challenges of VR as a tool for deepening mutual understanding among stakeholders in different positions.
Project Topics
First, three project members provided information on the project.
1) "Diversity and Inclusion and Unconscious Bias" by Kaoru Chujo (Visiting Researcher, Institute for Future Initiatives, The University of Tokyo / President and CEO, SoW Insight Inc.)
Ms. Chujo spoke from three perspectives in her presentation: causes of unconscious bias, the current status of unconscious bias, and introduction to the workshop.
First, she discussed the causes of unconscious bias. Human beings' thought processes can be divided into two main categories: (1) logical and organized but slow thinking, and (2) automatic and fast thinking. Most of the information input from the five senses is processed unconsciously through automatic and fast thinking. Significantly, the information is unconsciously classified for efficient processing, thereby simplifying reality and leading to unconscious bias. Ms. Chujo introduced many phenomena, including confirmation bias, normality bias, and group synchronicity bias, as concrete examples of unconscious bias.
Then, she explained the current status of unconscious bias based on a questionnaire survey data. The survey was conducted by the Gender Equality Bureau, Cabinet Office, and released in September 2021. According to the data, 29.8% and 23.8% of men and women, respectively, answered affirmatively to the question, "men should prioritize work over family even though they are both working," with a larger percentage of affirmative answers from men. In addition, over 30% of both men and women responded affirmatively to the question, "women should not be responsible for important tasks during childcare," suggesting the existence of a gender bias.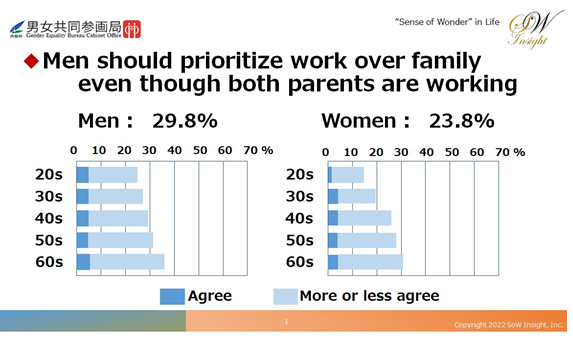 Figure 1 Men should prioritize work over family even though both parents are working
Source: Created by Ms. Chujo from the FY 2021 Research on Unconscious Bias Based on Gender, Gender Equality Bureau, Cabinet Office (https://www.gender.go.jp/research/kenkyu/pdf/seibetsu_r03/02.pdf)
Finally, she presented an overview of the workshops being undertaken for this project. Interviews with working parents who simultaneously engage in child-rearing revealed certain characteristics, such as parents' "guilt toward children and others" and that the "ideal child-rearing and working styles vary from person to person". In consideration of these characteristics, the workshop design is not intended to present a single correct answer but rather to facilitate discussions that will encourage participants to seek solutions tailored to their individual situations. To achieve this, the workshop was designed to promote mutual understanding by combining two experiences: one from the perspective of a supervisor who assigns work to subordinates, and the other from the perspective of a working parent who has to work while engaging in child-rearing.
2) "Is VR the ultimate empathy machine?" Yuji Hatada (Doctoral Student, Interfaculty Initiative in Information Studies, The University of Tokyo)
The next presentation by Mr. Hatada provided information on VR and empathy from an academic perspective.
In the first part of his presentation, Mr. Hatada focused on the literature on VR and empathy. Research on perspective-taking has originally been conducted in the field of psychology, in which one person attempted to see things from the other person's point of view to reduce stereotypes and understand the person. The process involved imagining, writing essays, and role-playing. The role of VR was also significant. VR has two characteristics: the presentation of a sense of presence and embodiment, which allows one to move an avatar that is different from oneself as if it were one's own body. This has attracted significant attention because of its use in research on perspective-taking.
In the second part, he focused on how VR can be utilized and its currently known limitations. First, empathy itself can be divided into two categories: emotional empathy and cognitive empathy. Emotional empathy, as the name suggests, is an emotional and affective response to the other person's situation, such as frowning when one sees that the other person is in pain. Cognitive empathy, on the contrary, involves conscious simulation of the other person's thought processes, such as that of how the other person would think. Based on an experiment on the theme of organ donation, he further suggested that people may become more conscious of protecting themselves and less conscious of contributing to others upon viewing the situation as their own through VR. In other words, using VR alone may be insufficient because its obtained effect may be different from the desired effect.
To this end, Mr. Hatada proposed possible design innovations. First, he talked about designs that allow people to experience multiple positions. As an example, he introduced a study in which one participant alternated between the viewpoints of a police officer and a black man who was mistakenly arrested. Alternately experiencing two different positions may lead to a deeper understanding of others and increase actions that contribute to others. He further pointed out that enhancing tactile feedback and other aspects of the experience may generate a higher level of immersion, which may lead to increased effectiveness.
Finally, he explained four issues that must be considered in the future: (1) simply putting on headsets is not enough, the experience's content must also be formulated; (2) over-emphasizing child-rearing pain may have the opposite effect of what is expected; (3) elements unique to VR, which differ from those of conventional workshops, must be taken advantage of; and (4) related concepts, such as the connection between empathy and action and how to measure empathy, must be organized.
3) "Introduction of VR contents of this project" Ryu Kudo (Master's Program, Interfaculty Initiative in Information Studies, Graduate School of Interdisciplinary Information Studies, The University of Tokyo)
The third presentation by Mr. Kudo was an introduction of VR contents to be used in the workshop.
First, he introduced the overall content flow, divided into two main parts: (1) office scene and (2) home scene. In the office scene, the experience proceeds from a supervisor's perspective, whose subordinate is a working parent. In the evening, an urgent task needs to be completed. However, the only person who can do the job is the subordinate working parent. Therefore, an e-mail is sent to the parent requesting that the work be done urgently. In the home scene, the experience proceeds from the working parent's perspective, who is the boss's subordinate. The parent receives the mail when she/he returns home to have dinner with his or her 2-year-old child. She/he opens the mail and finds that it is a work request. She/he attempts to finish the work, but the child walks around and spills water on the floor, thereby making the task difficult.
Figure 2 VR content flow
He further added that the content is meant to encourage mutual understanding by experiencing it from two perspectives, that of the boss and that of the subordinate. In the future, he would like to increase interaction with the child to create more pressure.
In the next session, Ms. Oba of the Ministry of Economy, Trade, and Industry (METI) commented on the topics presented.
"Comments on the Topic Presentation" by Mayu Oba (Chief, Economic and Social Policy Office, Economic and Industrial Policy Bureau, Ministry of Economy, Trade, and Industry)
She remarked that she is looking forward to this project using VR because it includes perspective-taking, something only VR can provide. She noted that the project will facilitate more effective training during the COVID-19 pandemic.
She also provided information on the gender gap status in Japan along with data. She pointed out that the ratio of women in management and executive positions in Japan is much lower than in other countries and that a problem exists in the promotion pipeline. She further pointed out that about half the working women leave their jobs before or after childbirth because they find it difficult to balance work and childcare, which is a significant problem. She added that everyone must recognize their biases and change their behavior to solve these problems.
Panel Discussion
In the second half, Dr. Arisa Ema of the University of Tokyo's Institute for Future Initiatives moderated a panel discussion. She built on the information provided in the first half, following which four topics were presented.

Photo: Mr. Hatada, Mr. Kudo, Dr. Ema, Ms. Chujo (top row, from left)
Ms. Oba, Prof. Shiroyama, Dr. Narumi (bottom row, from left)
(1) Dr. Takuji Narumi Self-Introduction
Dr. Takushi Narumi of the Graduate School of Information Science and Technology, the University of Tokyo, a participant in this project, first introduced himself. He talked about various biases that he noticed only after raising his own children and how there was no single right answer in this project. He further added that the entire workshop needed to be designed to bridge the gap between those who had raised their children and those who had not.
(2) Realizations during the project
Ms. Chujo then commented on what she noticed during the project. First, was the spread of telework, which increased during the COVID-19 pandemic. She noted that although telework made it easier to balance work and childcare, it also created new friction. Second is the difference in awareness between generations. Compared to her own experience, she noted a change in the younger generation's awareness, with men being more proactive about childcare than before.
(3) What VR can do and its limitations
Dr. Narumi and Mr. Hatada commented on the empathy that can be generated by VR and its limitations. First, Dr. Narumi pointed out that people thinking that they can understand everything just by experiencing VR is a problem. To avoid this problem, their imagination must be broadened to include elements beyond those that can be seen through VR. Mr. Hatada's then added that what can be experienced in VR cannot be the other person's actual world but only a trigger to infer the person's experience. Therefore, it is necessary to seek ways to make the most out of VR's characteristics, while also considering its combination with other elements.
(4) Importance of collaboration
The importance of collaboration among other disciplines in moving forward with the project was also discussed. It was pointed out that parenting and working styles are diverse. Therefore, the experiences of a variety of people must be considered to accurately represent this diversity. Moreover, knowledge of psychology and engineering is essential to designing the experience. The importance of cooperation was also discussed from multiple perspectives, including the importance of opinions of diverse stakeholders such as human resources and participants who will be involved when the workshop is conducted at a company.
Conclusion
This event was titled "Can VR promote awareness of unconscious bias?" Remarkably, the discussions suggest that noticing unconscious bias using VR alone is difficult, thereby suggesting the need for reflection workshops and cooperation with people from various fields and positions. We plan to continue to promote the enhancement of VR content and the development of workshops in cooperation with various people.