Future of Washing Initiative Seminar 3 Discusses Sustainable Clothing and Fibers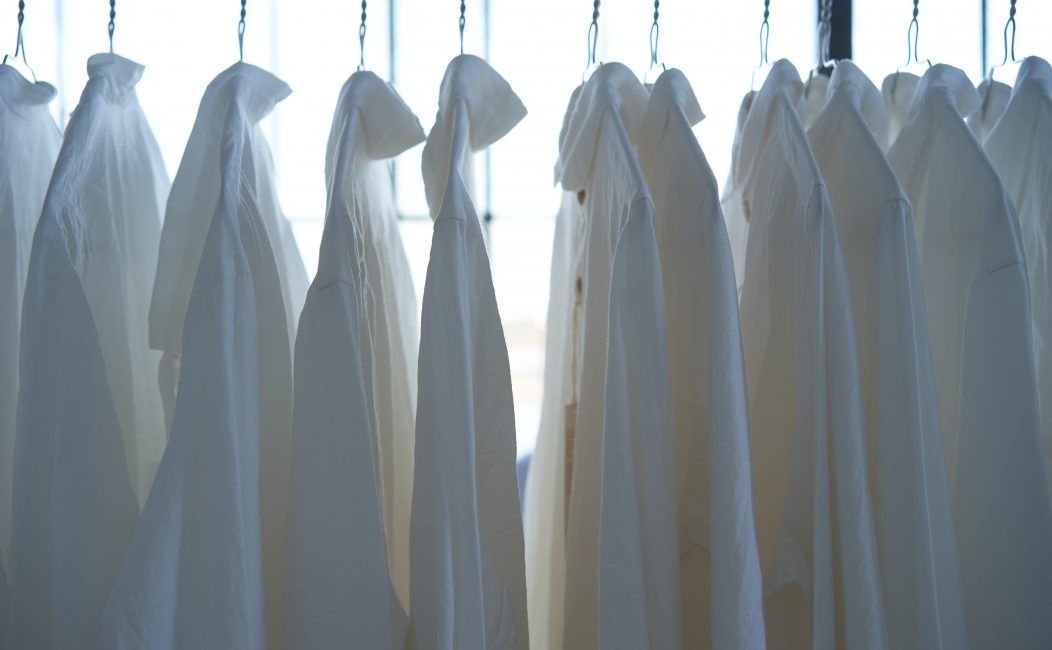 The Future of Washing Initiative held its third seminar, focusing on sustainable laundry from the perspectives of clothing and fibers on 16 December 2020. Thirty-five participants joined from businesses and academia, leading to an active discussion on the future of clothing and laundry in group discussions with Yohei Kaneko, Vice-President of ESG – Promotion at Kao Corporation as the moderator and MC. Groups presented innovative ideas on how to decrease the environmental impact of laundry, from their clothing choices to social system measures, leading to a wide range of possible solutions.
The seminar kicked-off with an introduction by Fumiko Kasuga, Director of the Japan Hub of Future Earth, and visiting professor to the Institute for Future Initiatives, the University of Tokyo. She explained the purpose of the Future of Washing Initiative and its activities implemented since the launch in 2018, including interviews, a kick-off symposium, and two seminars on sustainable laundry. She also explained the environmental effects of laundry and future pathways to sustainable laundry practices, in connection to the Sustainable Development Goals (SDGs).
Associate Professor Shuhei Tanaka from Kyoto University's Graduate School of Global Environmental Studies gave an informative academic presentation on the environmental behavior of microplastics and microplastic fibers, showcasing research results on these problematic pollutants. He explained that wastewater treatment plants can generally filter microplastics greater than 100μm (0.1 mm) through sand filtration, however for pieces less than 100μm, the removal rate remains at about 76%. In Lake Biwa, the largest freshwater lake in Shiga Prefecture, research showed that about 500 thousand microplastics enter from the wastewater per day, which is nearly equivalent to the 420 thousand particles that are estimated to enter from rivers that flow into Lake Biwa. One challenge is to understand the behavior of microfibers that can not be measured with the current technologies, and Professor Tanaka explained he is developing methods to enable this. Professor Tanaka also pointed out that microplastics are produced in the environment not only by washing clothes but also by wearing clothes. Thus, consumers need to choose clothes that will not produce plastic fibers, wash them less frequently, and also add a filtration system when washing, he said.
Hidenori Terai, General Manager of the Fibers and Textiles  GR (Green Innovation)/LI (Life Innovation) Business Planning Department, Toray Corporation made a presentation from the perspective of technology development of  high performance synthetic fibers and environmentally-friendly fibers. For the environmentally-friendly fibers, he explained two types: biomass-based fibers and recycled-material fibers. Typically, polyester is derived from petroleum, but Toray Corporation has created a bio PET (polyester), of which 30% is composed of plant-based bio-ethylene glycol. They are also the only company in the world to start developing 100% bio-PET fiber. Advantages of this material include its contribution to a society that is non-dependent on fossil-fuel, securement of the feedstock's traceability, and quality assurance with a functionality equal to petroleum-derived PET. Toray Corporation has also established initiatives to combat the production of microplastics, such as ramping up their recycled fiber production, R&D on threads that do not produce microfibers, and cooperating with other companies in the industry and also with the government. Terai pointed out the importance of developing high performance fibers that are also fostering sustainable fashion in the society.
Participants were then divided into online breakout rooms to have group discussions based on the two presentations, about what kinds of clothing and laundry methods are needed to realize sustainable laundry practices. Active discussions took place, as groups discussed a wide range of perspectives such as necessary technologies, change in consumer behavior, and the need for research. A summary of selected ideas is summarized in the table below.
Theme
Possible Solutions
Technology
Laundry machine

Filter to remove microplastics
AI technology to determine stains and odors
Feature to wash only the dirty sections of clothing
Laundry that does not use water/ produce wastewater i.e. breakdown of stains using ultraviolet

Laundry detergent

Biodegradable detergent
Detergent that degrades in water

Clothing

Fibers that do not produce microfibers

Others

Materials that degrade in marine waters and soil, including for PET drink bottles

Consumer behavior

Use products that do not remain in the environment
Education on eco-friendly laundry practices using social media and targeting millennials and Gen Z
Increase awareness on sustainable fashion so consumers choose environmentally friendly options

Research

Increase understanding of the effect of microplastics on the environment and human body
Label clothing so consumers can quantitatively understand their impacts i.e. amount of water used to grow cotton
Show environmental impacts of laundry and clothing through Life Cycle Assessments

System change and policies

Trans-sector approach where government and businesses collaborate to transform the social system
Technology transfer of laundry-related technologies to developing countries
Cooperation with other countries to tackle the microplastics issue
In his concluding remarks, Toshihiko Goto, Chief Executive Officer of the Sustainability Forum Japan, expressed that he was impressed with the group discussions, because they did not limit the discussions to technological development, but also included a wide range of views including lifestyle changes and social system change necessary for the future. He also mentioned how the environmental impacts of laundry are related to climate change, which cannot be solved only with technological development, so a wide perspective is needed when considering the interconnectedness of these issues.
With its focus on clothing and clothing fiber development, the third seminar by the Future of Washing Initiative informed participants on the issue of microplastics that are created during laundry, as well as fibers that are better for the environment. In group discussions, participants actively discussed how to decrease the impact of laundry from those perspectives. Many solutions were proposed, ranging from technology development of laundry machines, detergent, and clothing, changing consumer behavior, to data that promotes our understanding of the impacts and can inform consumers. We will continue to provide diverse viewpoints, and discuss the environmental impact of washing and laundry through this Initiative.